The treatments applied follow a process that makes the dirtiest items clean and ultra-clean, in successive phases and, if necessary, iteratively.
Primary cleaning phases prioritise the removal of organic deposits (degreasing) and physico-chemical contaminants (deoxidation, stripping) so as to ultimately restore the integrity of the base material (passivation). For example: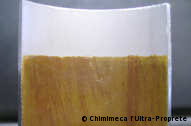 Treatment of stainless steels for nuclear applications
Treatment of aluminium for ultra-vacuum applications
Treatment of titanium for aerospace applications
For curative product ranges - secondary cleanliness - the primary chemical phases are supplemented or replaced by specific treatments: derouging, sanitisation, descaling, desludging, chemical leaching, defueling, etc.