Double containment structures, Boilers.
Chemical cleaning of double reactor containment structures.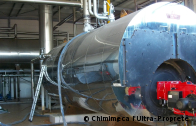 In nuclear power, the controlled circulation of thermal fluids (water, steam, brine and glycol water) takes place in double containment structures, which must undergo periodic cleaning during their maintenance:
Treatment by swinging and snaking. Tailored ranges depending on the type of fouling.
Specific chemicals for enamel-finished equipment – chlorine-free treatments.
Performance measurement by comparison of cubic content and estimation of the fouling removed.
Chemical leaching of water tube or smoke tube boilers.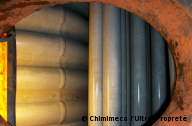 Even when using treated water, industrial boilers suffer from an accumulation of deposits, which must be removed so as to restore their heat-exchange characteristics and avoid bursting due to creep. Cleaning is also required during 10-year inspections:
Comprehensive studies, analysis of deposits, guaranteed elimination.
Treatment by swinging and recirculation. Performance measurements.
Full treatment followed by repassivation.