Sanitization, an important advantage in critical environments
The agri-food, pharmaceutical and cosmetics industries must perform continuous bacteriological monitoring on their processes.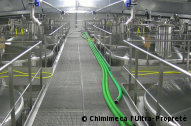 Drastic curative treatment is required when processes are affected by bacteriostatic problems. We implement complete ranges for all types of installation : pipe networks, exchangers, vats and tanks:
Elimination of biofilms, high-pressure leaching with caustic products
Acid treatments, restoration of the metal's chemical cleanliness
Bacterial sanitisation with peroxide
Our experience makes it possible to ofeer guarantees validated by bacteriological analyses after 5 and 8 days.