Stripping - Deoxidation - Pickling
Stripping involves the use of chemical dissolution to eliminate contaminants at the surface of the items treated.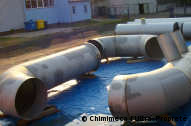 These treatments are the key to successful chemical cleaning. Our product ranges allow precise control of the elimination of contaminants and oxides, while protecting fragile substrates such as polished surfaces and aluminium or titanium alloys :
Blank stripping of stainless steels, superalloys and aluminium
Full deoxidation of polished surfaces without degradation
Pickling of black steels, electrochemical machining of titamium
Our specialist products cater for every possible requirement and guarantee that surfaces comply with the strictest standards in the nuclear, cryogenic and pharmaceutical fields.