Chemical cleaning - an important advantage in terms of maintenance
Preventive or curative treatments make it possible to restore the operational status of utilities.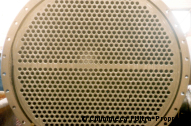 All industrial processes can suffer from fouling or an accumulation of deposits that may compromise operational efficiency. We use swinging or spinkling techniques as part of processes specially tailored to the fouling encountered :
Preliminary analysis, estimation of the fouling present, determination of the most appropriate ranges
On-site implementation under analytical process control
Chemical cleaning is particularly well suited to boilers and power production units. We work on-site to ensure the best possible results.