As formulators and applicators, we are aware that safety is crucial.
The protection of individuals and the environment lies at the heart of our approach.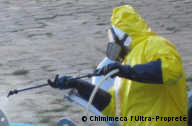 We have selected a comprehensive range of application and protective equipment to ensure the safety of operators and other workers.
Respiratory protection, basic and powered respirators.
Personal protection, gloves, aprons.
Specific equipment, screens, showers.
The training we provide on our products is a guarantee of safety.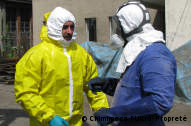 The equipment selected is used by our teams on a daily basis. We therefore offer every possible guarantee regarding its effectiveness and provide training on its use and that of the products implemented.
Pumps and spraying equipment.
Circulation skids, sprinkling systems.
Transfer pumps, vats, retention facilities.