Optimised installations based on in-depth experience.
Our considerable application experience leads us to choose the best equipment available.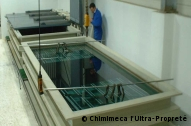 An optimised treatment installation is a guarantee of productivity and durability:
Carefully selected materials and types of structure.
Layout and size
Organisation of flows, ventilation and manual handling.
A selection of equipment tailored to your requirements.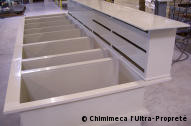 A treatment installation must take into account its immediate production environment, as well as the need to protect property and individuals:
Ventilated or semi-closed treatment vats.
Treatment enclosures, soil protection, technical resins.
Ventilation, air treatment.