Production of pharmaceuticals and exposed cosmetics
The cleanliness of equipment installed in production facilities must be strictly controlled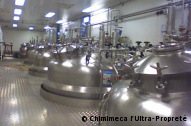 During the installation of equipment and pipe networks, we provide final cleaning services prior to commissioning :
Degreasing, deoxidation and passivation of installed pipe networks and equipment
Pressure analyses and tests, airtightness and leakage tests
Physico-chemical, conductivity and gravimetric tests.
Process constraints require constant monitoring of installations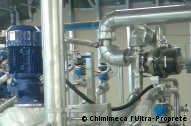 Performance deviations may occur during operation. These can be corrected through preventive or curative action :
Derouging, Deoxidation, specific chemical cleaning
Sanitization, elimination of biofilms, bacteriostatic cleaning
Treatments on the utilities side (cleaning of double containment structures and exchangers).