The need for cleanliness and Ultra-cleanliness are constraints that apply to every industrial process involving a transfer of fluids. The choice between cleanliness and ultra-cleanliness depends on the requirements of the industry in question.
Primary cleaning is a finishing process in the construction of new equipment, secondary cleaning involves cleaning installations that are already in service, while ultra-cleanliness is required to qualify technical surfaces for nuclear, cryogenics, ultravacuum or pharmaceutical applications. For example :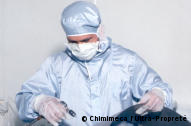 The levels of cleanliness we achieve and guarantee cater for the strictest requirements and enable final equipment qualification prior to commissioning (in the case of finishing work on new equipment) or equipment refurbishment during normal operation (in the case of maintenance cleaning).