Exchangers and process equipment are treated when new or within the scope of maintenance.
Treatment of new equipment - technical qualification prior to commissioning.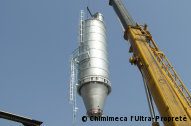 The qualification of new process equipment meets the same constraints as that of all other boiler equipment, to cater for the specifications set out by the nuclear, cryogenics and agri-food industries:
Internal/external final cleanliness, full treatment.
Qualification according to pre-determined cleanliness criteria.
Most tasks are performed in the workshop.
Chemical cleaning for maintenance purposes: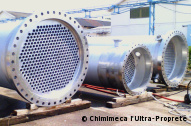 Chemical cleaning during maintenance can help to resolve a drop in operating output resulting from utilities issues (accumulation of sludge or scale, clogging) or process issues (fouling, bacteriological problems, corrosion):
Descaling of process exchangers on the "shell-water side".
Desludging of cooling system condensers on the "tube side".
Unclogging of air coolers, cooling tower cleaning, treatment for the prevention of Legionnaire's disease.