Descaling & desludging - constraints imposed by steel pipe networks
Steel pipe networks and the exchangers used for the supply of utilities - glycol water, cooling water, steam, combined pipe networks, brine - suffer a loss of performance when corrosion and/or scale accumulates.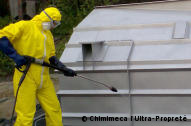 We have developed specific ranges to elimate fouling by :
Injection and recirculation of dispersant additives during operation, as well as magnetic and mechanical filtration
Recirculation with an unaggressive complexing medium
Finishing deoxidation and true repassivation of the pipe networks treated
Our teams perform curative or preventive maintenance on-site. The specific inhibitions and passive finishes inhibitions applied to the treated surfaces delay the reappearance of fouling phenomena and increase the operational availability of equipment.