We are able to treat two types of vat/tank:
High storage capacity (300 to 6000 m3) - treatment on-site.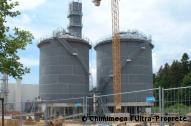 Only the inner surfaces need to be treated. These are washed by sprinkling with an orbital nozzle, with no operator required inside:
Oxygen cleanliness and qualification of stainless-steel cryogenic storage tanks.
Biopharmaceutical cleanliness and qualification of stainless-steel tanks for the storage of deionised/purified water
True passivation and process cleanliness for steel chemical/petrochemical storage tanks.
Low storage capacity (1 to 300 m3) - Treatment on-site or in the workshop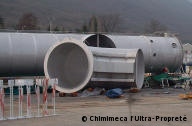 Tanks are generally treated inside and out. The qualification of outer surfaces is for aesthetic as well as technical purposes, while inner surfaces are cleaned according to specifications set out by the nuclear, cryogenics and agri-food industries:
Treatment of all types of stainless-steel nuclear equipment.
Final cleanliness of fermenting rooms and wine storage equipment.
Final qualification of ultra-vacuum equipment.