Our field teams work on-site to perform final cleaning processes on your equipment and installations, according to a secure protocol formalised by the QHSE MASE standard.
Our services are always preceded by a study that includes an initial visit to your site. The preliminary study is based partly upon a coordination visit. It ensures that the operation is performed in an optimal manner and produces the best possible results, for example: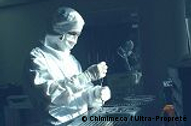 Our services always include: a Health and Safety Risk Prevention Plan, an Operational Quality and Traceability Plan, the creation of a document trail, effluent management and destruction in an approved centre with generation of a BSDI (industrial waste tracking form).